Trusted Executive Transportation
Triangle Corporate Coach offers professional executive sedan service that serves Raleigh and the entire Triangle, NC. area. We are especially active and provide black car services and executive travel in Chapel Hill, Raleigh and Durham.
Our black car chauffeurs provide the highest level of professionalism and service that ensures you will arrive at your destination on-time. Our goal is to accentuate your appearance by being properly attired, every time, with pressed black suit, white shirt, and dressed black shoes, and you may see some of our chauffeurs wearing their chauffeur hat.
Between our chauffeurs and exceptionally clean cars, both inside and out, we always make our client's arrival a high-class affair. We showcase the difference between 'I am here' and 'Here I am'.
We take our high level of customer service very seriously. We understand that business moves fast. Our on-time professional service and high standards means that you will never have to worry about your corporate transportation throughout your stay in Raleigh and surrounding areas.
We will handle transportation arrangements, which allows you the freedom to conduct business calls, prepare for presentations and meetings, or just unwind from a long flight.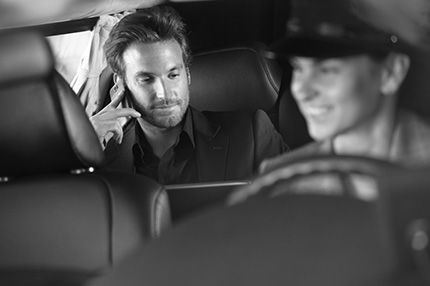 Executive Transportation For Your Clients
Are you having important clients in from out of town? Show them that they are a VIP by treating them to the highest level of business transportation in Raleigh.
Triangle Corporate Coach will coordinate all transportation arrangements for your clients. Our chauffeurs will treat them with the highest level of class and rectitude available in the Triangle area.
Our repeat clients have trusted Triangle Corporate Coach to provide them with luxurious, reliable transportation for years. You can depend on us to exceed your expectations for your business transportation in and around Raleigh.